Be ready for DebConf23 at Kochi, India
Yes, you heard it right DebConf23 is happening in India this year!
What is Debian
Debian is an operating system consisting entirely of Free and Open Source Software. The Debian Project is dedicated to remaining 100% free and to being a responsible citizen of the Free and Open Source Software ecosystem. Our priorities are Free Software and our users. Debian set of guidelines serves as an example for many other projects.

Debian's high quality standards and adherence to its strict policies makes it a preferred choice for derivative works. Currently, over 120 actively developed operating systems build on Debian, including the widely popular Ubuntu and Linux Mint distributions, and Kali Linux. The Debian Project takes pride in being built upon by others. Debian volunteers work actively with teams deriving their distributions from Debian, to maximize the benefits for all.

The Debian Project's key strengths are its volunteer base, its dedication to the Debian Social Contract, and its commitment to provide the best universal operating system. Debian is produced by over a thousand active developers, spread across the globe, many of whom volunteer in their spare time. Outside of DebConf, most communications take place on the Internet in mailing lists and IRC chatrooms. Unlike all other Linux distributions of similar size, Debian is an independent non-profit organization. Debian's dedication to Free Software, its non-profit nature, and its open development model makes it unique among Free Software distributions.
Debian is Freedom. Debian is Choice
Debian is known for its adherence to the Unix and Free Software philosophies, and for its extensiveness. The current release includes over 51,000 software packages for ten computer architectures, ranging from Intel 32-bit and 64-bit architectures to ARM (cellphones and tablets) and the IBM S/390 (mainframes). In addition to the Linux kernel, it also supports an unofficial port running the FreeBSD kernel.
What is DebConf
DebConf is the annual international gathering of Debian developers, contributors, users and enthusiasts with the common purpose of discussing technical topics, collaborating on joint projects and working on improving the Debian GNU/Linux distribution and its derivatives.

DebConf is run on a non-profit basis, and all the organizers work as volunteers without compensation. Our contribution makes it possible for Debian to bring together a large number of Debian contributors from all over the globe. During DebConf we work together, help and learn from each other, and forge friendships. Since Debian contributors are located all over the world, meeting face to face once a year helps form bonds that improve long distance collaboration into the future.

Every year the conference is hosted in a different city, reaching new contributors and strengthening local Free Software / Open Source communities. Having sufficient funding is critical to achieving this every year.
Debconf23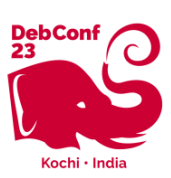 DebConf23, which will be held at the Infopark Kochi in Kerala, India, from the 10th to the 17th of September 2023.
What to become a sponsor for DebConf23 ?